SURE > FLOW METER > Electromagnetic Flow Meter LDG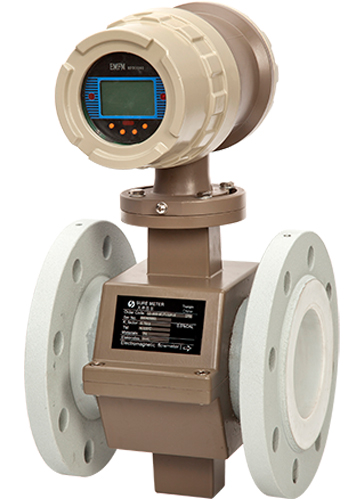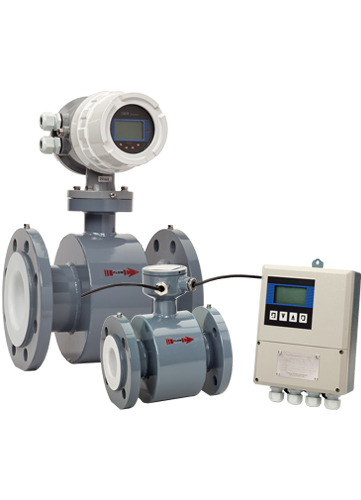 SURE : Electromagnetic Flow Meter LDG
Operating Principle
Following Faraday's law of magnetic induction, a voltage is induced in a conductor moving through a magnetic field. In the electromagnetic measuring principle, the following medium is the moving conductor. The voltage induced is proportional to the flow velocity and is supplied to the amplifier by means of two measuring electrodes. The flow volume is calculated by means of the pipe cross section area.
Application
- Waster water industry: transport networks sewage treatment plants, sludges
- Chemical industry: acids alkalis, dosing applications, abrasive or corrosive mediums
- Metal & mining industry: mediums with a high solid content,like one or excavator mud
- Water industry: Revenue metering, district metering water abstraction, leakage detection
- Pulp &paper industry: pulp, pastes, sludges & other caustic mediums, liquor, additives, bleaches,colourants
- Food & beverage industry: mixing, dosing and filling of drinks under hygienic conditions filling systems applications.
■ Not affected by density, viscosity, temperature, pressure and conductivity fluctuation;
■ No block parts, no pressure loss, and short straight length;
Technical data
Certification
ISO 9001:2008;CE
Diameter
PTEF: DN6-DN600
Hard rubber:DN50-DN2200
Flow Direction
Positive; Negative
Repeatability Error
±0.1%
Accuracy
±0.5% of rate & ±1.0% of rate
Medium Temperature
Hard rubber liner:-20…+60°C
High-temp rubber liner: -20…+90°C
PTFE liner: -20…+120 °C
High-temp PTFE liner: -20…+160°C
PFA: -20...+180°C liner: -20…+160°C
Nominal Working Pressure
DN10~DN25≤4.0MPa
DN32~DN150≤1.6MPa
DN200~DN600≤1.0MPa
DN700~DN22000≤0.6MPa
Velocity
0.3-10m/s
Ambient Temperature
-20…+60°C
Relative Humidity
5%~95%
Comsumed Power
<20W