SURE > FLOE METER > Insertion Magnetic Flow Meter LDGC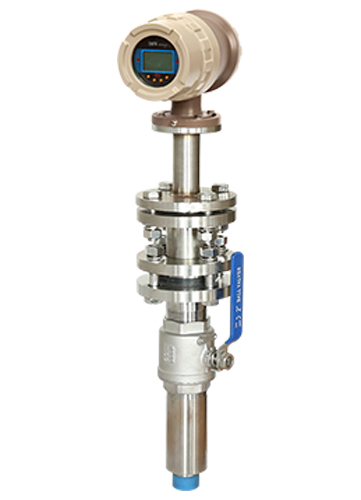 SURE : Electromagnetic Flow Meter LDGC
Description
SURE Insertion Magnetic Flowmeter is designed for measurement of the velocity of liquid. It can be installed in any pipeline of internal diameter from 200mm (8in) to 3000mm (120in),through a small tapping. The complete lack of moving parts of this insertion flow sensor is the source of its reliability. There is no rotor to stop turning in dirty water and there are no bearings to wear out.
Reverse flow output are optional. A rapidly reversing magnetic field is produced in the lower housing. As the fluid moves through this field, a voltage generated that is measured and translated into a frequency signal proportional to flow rate.
This square wave signal can be sent directly to a PLC, control or converted to 4 to 20mA.
■ Measure medium: Conductivity medium;
■ Output: 4-20mA, pulse, MODBUS RS485, HART, GPRS,etc…
■ Accuracy: ± 0.5%; ±0.2%;
Technical Data
Diameter
200-3000mm
Velocity
0.1~10m/s
Accuracy
0.1-0.5m ±2%
0.5-10m ±1.5%
0.1-10m ±2.5%
Liquid Conductivity
> 5μs/cm
Straight Pipe
5D for inlet; 3D for outlet
Liquid Temperature
-20…+150°C
Ambient
-20…+60°C
Pressure
1.6MPa
Protection
IP65(compact type ) ; IP68(remote type)
Signal Output
4-20mA/Pulse
Communication
RS485;Hart
Power Supply
220VDC;110-240Vac;Battery